"With support from and in partnership with the community, Newby-ginnings of North Idaho, Inc., a non-profit organization,
will p

​

rovide, with honor, respect and integrity, essential items, resources and referrals to area Active Military,
Veterans and Gold Star families in need of such services."
Thank you Doug and everyone at Lloyd's Automotive in Coeur d'Alene for all of your hard work and support!

Thank you Brad Rutt and everyone at Northwest Farm Credit Services for all you do for Newby-ginnings and our Veterans!

Gold Star Mothers . . . Theresa Hart (Nicholas Newby), Stacey Holley (Matthew Holley) and Lorie Goldsmith (Wyatt Goldsmith).

Thank you Nancy and Marilyn for brightening our day and our decor!

Thank you Gator Boyz Mudding and OffRoad Club for all of your support!

This is the coolest dump truck ever! Thank you Wade Blount for bringing it by to show us! And thank you CAD of Spokane for your undeniable support of our military.

Rock 94.5 is the best! Thank you GA and Roxy for always inviting me to the studio to tell the world what we are doing. They look adorable in their red Newby-ginnings shirt too!

Not often at a loss for words . . . but was this day. Thank you Bruce Taylor (American Legion District 1 Chaplain) for the kind words and the recognition of our work.

Proclamation of Commendation from American Legion, State of Idaho District #1 Chaplain, Bruce Taylor
WINTER WEATHER IS HERE AND YOUR SAFETY IS IMPORTANT TO US!

​
When bad weather conditions occur, Newby-ginnings shop closure may occur.  Please be advised that Newby-ginnings follows Post Falls School District school closure decisions.   If the Post Falls School District is closed, Newby-ginnings will be closed as well. 

​
Click here
 f
or school closure decisions during inclement weather.  

​
Veterans, Active Military, and Gold Star Families:
At Newby-ginnings, we provide basic necessities and essential household items to Veterans, Active Military, Gold Star Families, and their families at absolutely no cost. There are NO income eligibility requirements and you do not have to prove need. All that is needed is proof of miliitary service, past or present, for yourself or an associated family members.
To date, we have enrolled and assisted
Veterans, Active Service Members and Gold Star families from near and far.  We average 100-125 visitors to our shop everyday that we are open and enroll, on average, 10 new clients per week.  
When you come see us for the first time, please bring your DD214, VA card or military ID to get signed up.  It is that simple.
Mark your Calendar!
It's time to

Dine to Donate at

Texas Roadhouse!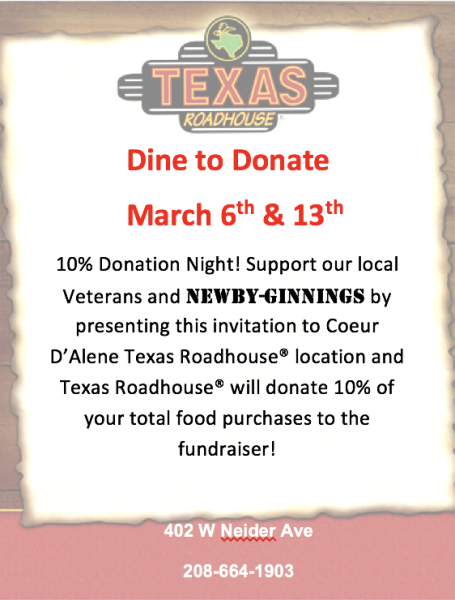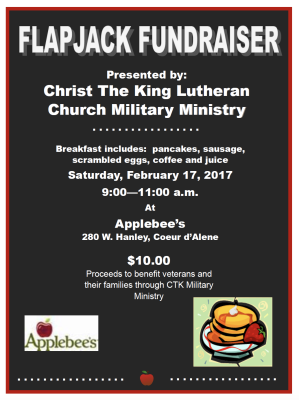 Please join us Saturday, February 17 from 9-11 for a great Applebee's breakfast to support a great cause.

With a Grateful Heart . . . 

Thank you to our community

for an amazing 2017!